Crochet Saved My Life:
The Mental and Physical Health Benefits of Crochet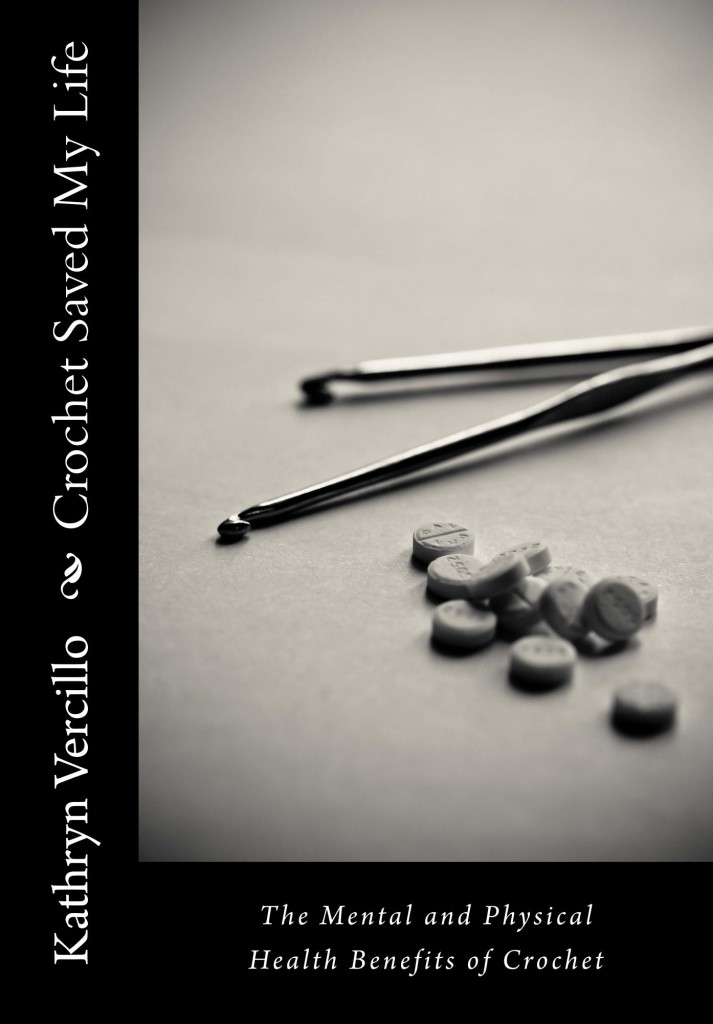 Authored by Kathryn Vercillo
Photographs by Julie Michelle
Crochet saves lives. It saved mine.
In the worst throes of depression I found myself sobbing on the bathroom floor, the tip of a kitchen knife pointed into my wrist. I was aching to break the flesh and bring the pain to an end. Through sheer force of will, I pried my own desperate hands open and replaced the knife with a crochet hook. Then I crocheted to save my life.
In this book, you will get to know me through my story of depression and healing. And you will get to know other women as well. You will meet Aurore who crochets to stay in touch with reality as she deals with ongoing psychiatric hallucinations. You will meet Laurie who made a new life with crochet after years of a life filled with abuse. You will meet Tammy whose crochet helps her with the ups and downs of living with Chronic Lyme Disease. You will meet Liza who crochets through the anxiety of having temporary bouts of blindness caused by an undiagnosed health condition.
The two dozen women whose stories are shared in this book are the women who hook to heal. We are not alone. Studies shows that crocheters are numerous; research and anecdotal evidence show that people of all ages, from all walks of life, with all types of health conditions may find healing through their hooks and yarn. Join us on our journey.
Crochet Saved My Life is told through the lens of stories about crochet but the research and tales transcend this specific craft. They show how hands-on creativity of all varieties can offer benefits to the individuals dealing with a range of different situations. This book is a testament to the theory that "handmade heals".
Crochet Saved My Life was self published on July 1, 2012.

ISBN/EAN13: 1478190450 / 9781478190455
Wholesale and Commissions
Kathryn Vercillo wants to get this book into the hands of the people who can be touched by it so she is happy to work with stores and independent sellers on both wholesale and commission sales.
Wholesale Information
Crochet Saved My Life is available through standard book distributors like Ingram, which is the best way for most stores to get the wholesale rate on the book. However, it is also sold through Amazon's CreateSpace page and you can use their Direct Reseller Program to get the wholesale rates through that channel as well.
Commissions for Stores
The author is working with several stores on commission and is happy to consider this option as a way to show the book to a new market. She has a standard, but negotiable, commission contract for a three-month period and will work with bookstores, yarn stores and other brick-and-mortar businesses in this way. She uses the standard 60% author/ 40% store split. Kathryn is easy to work with and may be flexible about her terms. Contact her at kathryn.vercillo on gmail.
Commissions for Crafters
The author would love to be able to have a booth to showcase her book at every single fiber arts show and health-related expo in the world. Unfortunately, she can't be everywhere at once. That's why she's thrilled to work with other crafters who already have booths at these events and want to make the book available in those booths. She offers a few different options:
Kathryn will give you a 50% off limited-time discount code to purchase books and you can order them and sell them for whatever price you want at any upcoming events.
Kathryn can supply you with postcards featuring a 10% off unique discount code. You can give those to people at events and she will give you $2 per book sold using that code.
In some cases, the author will send you copies of the book on commission and will split sales (60 author/40 seller). This is rare, though, and depends upon a  positive working relationship between author and seller due to the risky nature of such a transaction.
If you are interested in any of these options please contact kathryn.vercillo on gmail to get the conversation started. Share some information about who you are, what events you would like to represent the book at and what form of commission most interests you.