Crochet Saved My Life has received a terrific welcome from the reading public, bloggers and the media. On this page I'll share that press along with the latest news about the book. Kathryn is currently available for interviews and a limited number of guest posts; email kathryn.vercillo on gmail to express interest in this.
Press Coverage for Crochet Saved My Life

2014 5 Star Review and Interview in Happily Hooked Online Magazine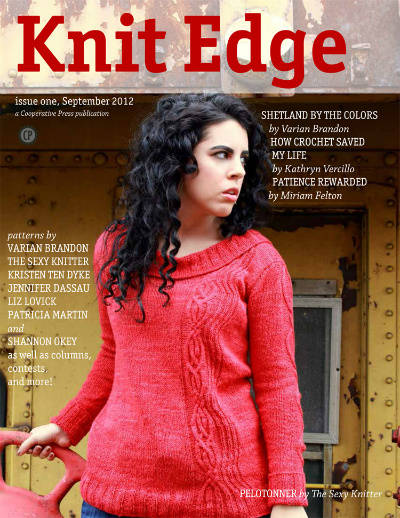 Knit Edge featured an article about the book by the author in September 2012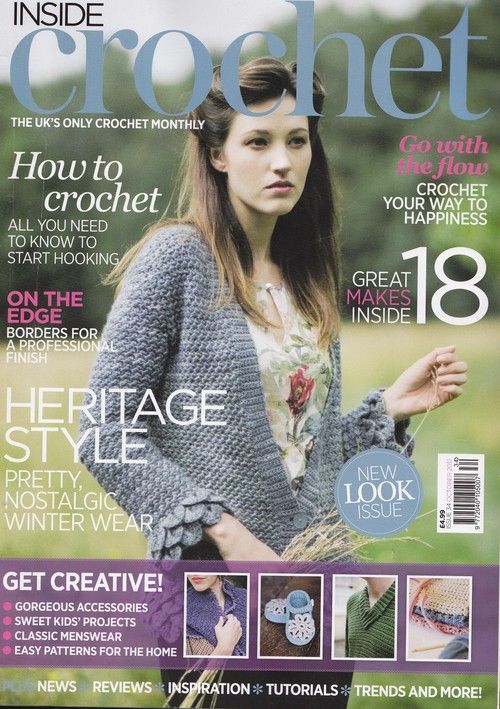 Crochet Saved My Life was reviewed in the October 2012 issue of UK magazine Inside Crochet. The reviewer says, "Taking a first look at this title, you may worry it will be a bit, well, depressing. It is, after all, written by a woman who was saved from the brink of suicide by a crochet hook. But you'd be wrong to worry – this thought-provoking book is a must-read. It tells the stories of many people who have been healed in some way by craft and looks into the science of the healing nature of working with your hands."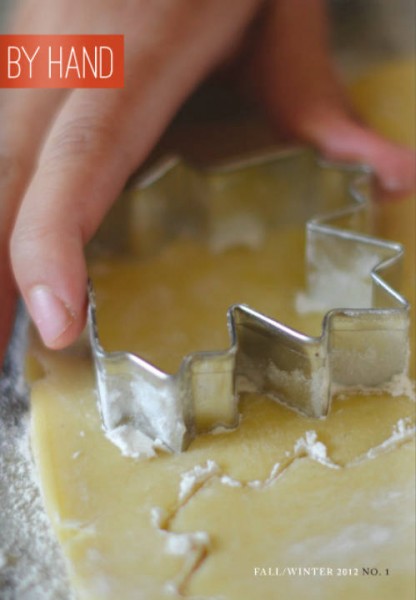 By Hand Magazine debuted with a Fall issue in 2012 and included an article I wrote about the health benefits of crafting, highlighting the research I uncovered when working on Crochet Saved My Life. This magazine is a celebration of the magic of a handmade way of life.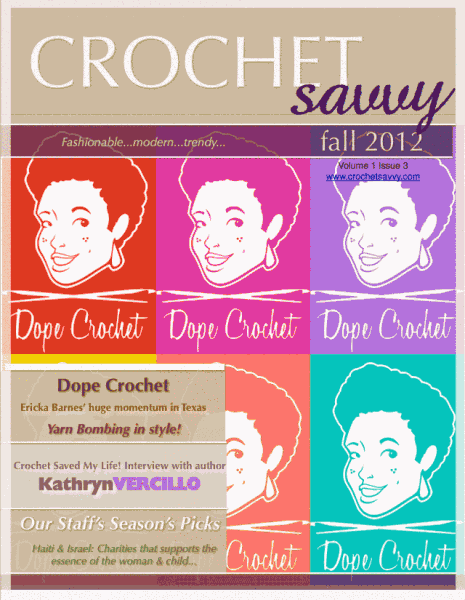 The Fall 2012 issue of Crochet Savvy online magazine featured an "interview with the author" where I was able to talk about both my blog and the book.

Crochet World reviewed Crochet Saved My Life in the November 20th issue of their Talking Crochet newsletter. It says in part: "Crochet Saved My Life is a must-have for the bookshelves of any and all crochet enthusiasts, and Kathryn Vercillo's easy-to-read writing style will carry you through this tome as though you are reading a novel." This newsletter also later shared an email from reader Sandra who said: "I am so pleased to see a review of Crochet Saved My Life in this newsletter. I'm a retired mental health nurse, and I did try to teach patients to crochet. It is not easy, and I encourage others who already know to crochet. I keep spreading the word!"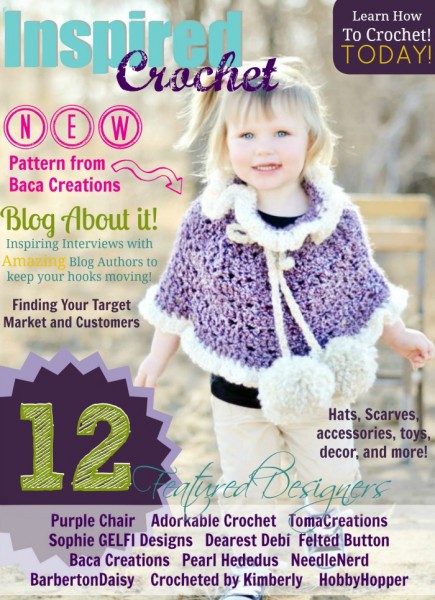 I was interviewed for the Februrary 2012 issue of Inspired Crochet, a digital magazine where I talked about my crochet work as well as this book.
Interviews of the Author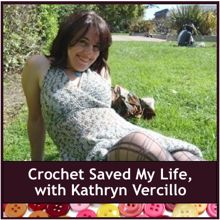 I did a podcast interview with CraftyPod that can purchased through her site. Below are links to the written interviews that have been posted about Crochet Saved My Life:
Five Star Amazon Reviews
Crochet Saved My Life has received several four and five star reviews on Amazon. Thanks so much to the readers who post these reviews! Here are a few of the things some of the five-star reviewers had to say:
"This is a fabulous book detailing not just the author's, but many others', personal struggles with mental illness and highlighting how crochet (and crafting, more generally) served as a shining light. This book weaves personal stories with scientific research in an easy-to-read style. And, let me say, her personal story is shocking and fascinating! If you (or someone you know) struggles with a mental illness, you will instantly relate to the people featured in the book. And as a crocheter myself, I completely acknowledge the healing ability of the craft. However, the author's key point is that doing concrete, hands-on work is therapeutic, and therefore would apply to a wide number of crafts/skills: gardening, cooking, sewing, painting… My only regret is the title of the book… I think having 'crochet' in the title limits the perceived audience of this book. It's much bigger than just crochet! A wonderful read. I highly recommend it." – Anastasia

"I was most impressed with the thoughtful, compassionate sharing of such personal details in the articles relaying the situations of other people. I found the additional information interesting and informative. The author shares her own personal experiences, the experience of a select number of other individuals, and also research studies done by others. In a section related to Alzheimer's, one line that popped out at me was "The great thing about crochet is that there is always something new that you can learn." My dad and two of my aunts had Alzheimer's so this is a subject close to my heart. The studies mentioned in the book note that keeping the brain active may be a way to delay onset of this terrible disease. Of course it's always a good idea to keep your brain active. If you need something calming, however, the author notes that you can create beautiful projects with the repetition of one or two stitches as well. My takeaway was that crochet has something to offer which can aid everyone, no matter the skill level or the physical, mental, or emotional challenges he or she is facing. I found the book to be thorough and honest in its coverage and would recommend it." – Sandra Petit

"I am not a crocheter, but I love crafts in general. I also sometimes suffer from depression and I found this book to be very insightful. It is well written and well researched and I found it helpful for dealing with my own issues. It was great to read about these women's struggles and how they learned to manage them. To be honest, even though I already craft, I now want to add crochet to my hobbies!" – Aimi

"What better endorsement for a book that to have it change your own life? My 82-year-old mother is starting to show signs of dementia and depression from being isolated in her house. After reading the sections on depression and dementia in the book, I went online and found a knitting and crocheting club (she use to crochet many years ago) that meets weekly and is only a couple of miles from her house! So for my weekly visit this week we are going yarn shopping and looking for some beginner patterns for baby blankets, etc., and next week I will go with her to the Knit Wits club to get her started on what will hopefully be a new chapter in her life. Thank you, Kathryn Vercillo, for writting such a pertinent book for women today!" – LBJ
Other Crochet Saved My Life Reviews
"Kathryn Vercillo did something very courageous and extremely significant in writing this book. She gave voice to the many thousands (if not more) women (and men) who turn to crochet to make it through one more moment, one more hour and yes just one more day.   At the same time she bore witness to the stories of some two dozen women who have used crochet to cope, heal and stay present as they deal with mental health issues, chronic disease, and mind bending grief. The bravest thing Kathryn did was to share her own journey with severe depression and then shower each page with the hope that each of us who has ever turned to crochet to keep our minds off the pain, the anguish, the fear of looking inside our own heads one more moment; she offers research and evidence that crochet can and does serve as a life saver. Thank you Kathryn for penning one of the most poignant, powerful and intrepid tomes on the subject crochet that I have ever had the pleasure to read." – Laurie Wheeler of Crochet Liberation Front
"Kathryn Vercillo gives many accounts in Crochet Saved My Life of how crochet has helped others, from empowering a woman who was a victim of rape, to helping a woman who suffers from hallucinations keep her grip on reality, to comforting a woman who is going blind. This book is a must-read for any crocheter who has ever felt alone or like no one else understands. If you only have time to read one book this year, make it this one." – Crochet Kitten
"This book written by Kathryn Vercillo is a labor of love and expertise. I feel a kindred spirit with Kathryn because she's wrestled with deep depression and I feel even closer to her because she's just brazen enough to talk about it, write about it, and be about it." – Jen from The Pursuit of Sassiness
"I encourage you to have a look at Kathryn's website and further information about this book, and possibly even order a copy!  It's a great way to support someone who is doing her utmost to explore and promote a popular handcraft in a way that hasn't been investigated before, and it's an interesting read as well." – Lara of Thornberry
"Crochet Saved My Life discusses how crochet can be a healing tool used by individuals as well as in group settings. It outlines the specific therapeutic benefits and uses of crochet, making this an invaluable resource for occupational therapists, mental health professionals, and teachers – even those who do not crochet themselves." – Moogly
"The book opens with Kathryn's own battle with depression, and continues with one gripping and amazing story after another of despair and relief through crocheting. The book is also chock-full of scientific research, and it's immediately obvious to anyone reading it that the message reaches far beyond crocheting: crafting, particularly tactile and engaging crafting, does wonders for the spirit. Grab this book if you're stressed/anxious/depressed and are looking for a light at the end of the tunnel. Read it for inspiration from powerful women who have turned their lives around. If you have a friend/relative struggling with mental illness, read it as a way to gain insight into their experience- as Kathryn has a gift for putting into words ideas that usually remain hiding in the back of peoples' minds. You might even want to read what's inside this book so you'll have an excuse for squeezing in more crocheting!" – Stacey Trock of FreshStitches
"When Kathryn finally released her book Crochet Saved My Life I was beyond thrilled. I've been waiting for the release of this book for quite sometime. In fact, I almost shared my story but ended up chickening out. Now, that I've read the many stories both within her book and throughout the web I am not so scared." – Sara, Mom With a Hook. Note: Sara did go on to share her story on her blog and added this touching message, "I want to thank Kathryn Vercillo once again for baring her heart so that we can all know we are not alone. I'm glad to have crossed paths with her and also for the women who showed great strength in sharing their stories. Much healing is happening as a result of her book Crochet Saved My Life. As people find her book and share their own struggle more people are being healed. It doesn't matter if it is through crochet or some other form of art or creative expression, sharing your story helps everyone."
"I'm working my way slowly through your book. (I've read nothing since my brother's death 6 years ago; I used to be an avid reader but now it takes me all my time to remember what I read after the page is turned). Can I just say that you've written my life in so many ways? Not exactly the same experiences or people, but the feelings, the emotions, and you've actually put into words what I was struggling to even acknowledge. Thank you. So much. From the bottom of my heart." Beth of MumblesMummy
"The reason that this book is becoming so popular is because it's a self help book that doesn't talk down to readers. The people who contributed their stories are real and easy to relate to. Be sure to check out this heartwarming book and learn a bit about yourself as well. See if you need to pick up a hooking habit to help your health!" – Sarina Asheford, Examiner
"Kathryn's book has been a Huge Help in my life and I hope she is adequately rewarded. Of course, she has all the love and gratitude from all the folks she has helped." – Maryann Crusoe in a comment on my Crochet for Mindfulness guest post
"Anyone who needs a new hobby, something to help a disorder you are suffering from, or if you already enjoy crochet, I would say you should pick this up and at least read the sections that pertain to you. Or you can just read it the whole way through." – Courtney Bauman book reviews
TracyAnn, who copes with depression, anxiety and PTSD recommends Crochet Saved My Life. She says: "The Women Who Hook to Heal…I can be included in this list of steadfast beautiful souls. The act of creating brings me so much joy. I share this with you and encourage you to purchase this book and share it with others." – http://www.crochethappy.com/
"I would totally recommend this book to anyone, whether you are a crocheter, knitter, crafter, or know someone who is depressed or suffering from any of the conditions Kathryn discusses. It's worth checking out!" – The Curious Pug
"These stories are inspiring and encouraging and filled with hope." – Depression Getaway
"This easy-to-read book is a great resource for anyone you know that may need some additional help in healing and getting to a better place whether they crochet, enjoy other crafts or are just looking for someone else that is willing to share their story about the struggle with illness or mental health issues." – Annette Graf, Examiner
"Your book was so comforting to me. I thank you so much for putting your life out there for us all to see, warts and all. Could not have been easy! I will recommend it to my ADD and OCD groups." –Lynne Pedigo Riday-Reiter, Facebook comment
"I was not aware of the fact that there had been a lot of research about the benefits of crafting. This made me very aware of the importance for me. I survived several depressions, and off and on I have to fight a big battle when it recurs. Crafting helps me. This book helps me." – Netheranne
"Crochet Saved My Life is a worthwhile read. As an avid crafter and crocheter, I found the book at times enlightening, and could relate to much of it. Vercillo's ability to weave statistics and reports into her narrative is also impressive. Her tone is friendly and sensitive while also being professional and direct—she does not sugar-coat or play down the intensity that can be found within each individual condition she addresses. Nor does she attempt to trump modern medicine or therapy with the value of needlework. The author's message, simple as it may be, is that the meditative power of crochet and knit could potentially bring a wealth of comfort and clarity to the suffering and the stressed. I, for one, could not agree more." Caroline Comeaux Lee, Psych Central
"Crochet Saved my Life will benefit many people. Kathryn Vercillo has included a wide range of disorders that can be helped with a skein of yarn and a crochet hook. I wasn't surprised by the mental health and hand problems that were mentioned, but when I read about Restless Leg Syndrome I was not only surprised but very interested. Crochet Saved My Life is a fascinating look at an unusual form of therapy." – Reviewed by Anne Boling for Readers' Favorite
Related Guest Posts
Other News
Other Mentions
I try to acknowledge everyone who spreads positive news about the book. Here were some other sites that mentioned or promoted Crochet Saved My Life: